Katie Hopkins was brutal with her thoughts on Megan Markle on 60 Minutes Australia.
What We Know:
Shamelessly, 60 Minutes Australia posted a documentary trailer talking about the "Duchess of Sussex" under the hashtag "#Megxit". The documentary included quotes on how Markle went from "adored to insufferable in less than a year". The release tweet is as such (although many of these tweets cannot be found on Twitter):
https://twitter.com/60Mins/status/1169180802871177218
It's no secret that Hopkins disapproves of Markle. Although Hopkins has a past of speaking poorly of Markle, some quotes that have been pulled from the trailer include that Markle is "a no one" who "wears bad clothes. When did we ask for that?" Along with being "the biggest hypocrite there is". These seem to be pretty petty arguments with possibly no evidence to back up her claims. That being said, the documentary will have the input of other celebrities as well as Hopkins.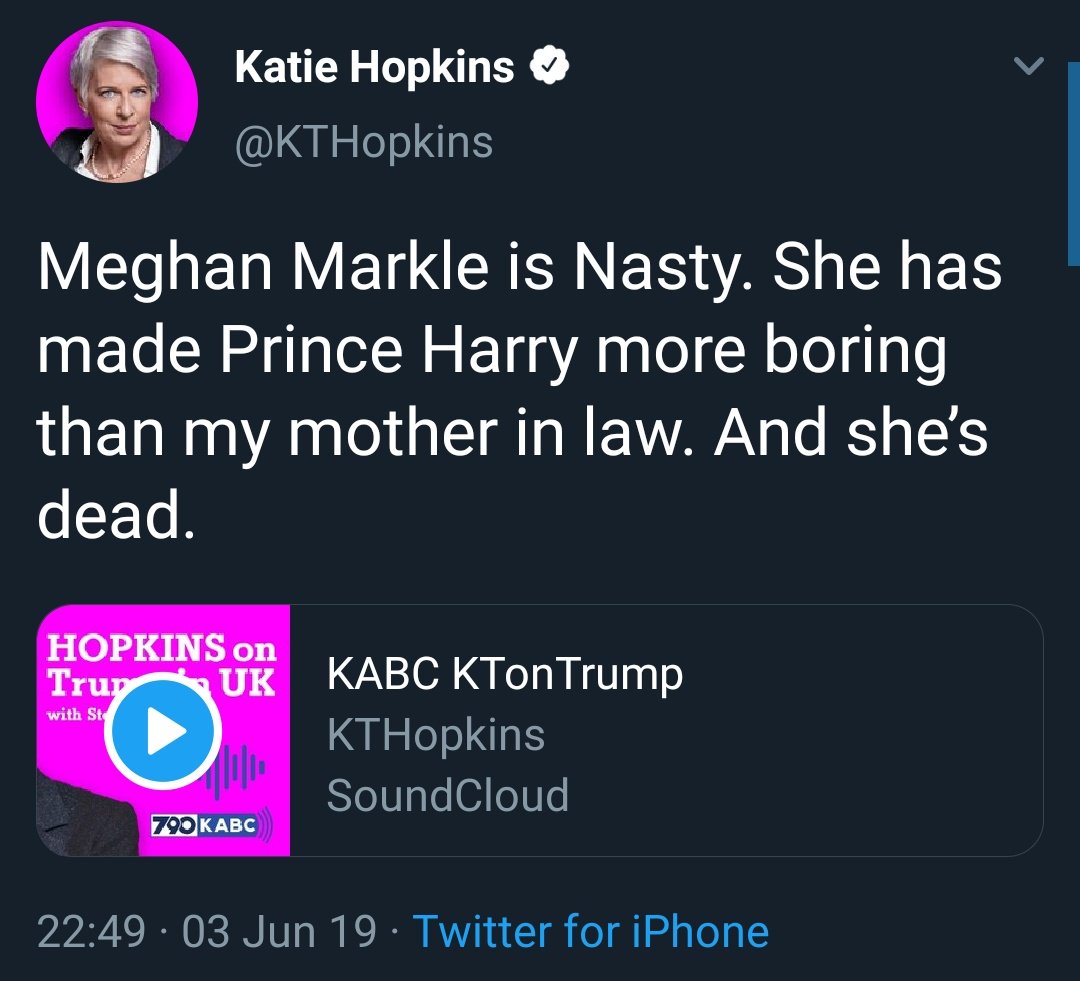 A since-deleted tweet went as such:
THERE SHE IS IN HER ONE-SHOULDER COSTUME BEING GLOWING – ALL SHE DOES IS GLOW. ABDICATE, OFF YOU GO, WHOOP WHOOP.
— KATIE HOPKINS (@KTHOPKINS)
Hopkins teased the upcoming 'documentary' (airing September 8th, 2019). She tweeted, "My views on The Monster Markle coming this Sunday @60Minutes. You don't wish to miss it. It's going to be big."
There has been a lot of clapback that 60 Minutes Australia has been facing since the trailer post.
Does @60Mins realise how despised Katie Hopkins is in the UK and what her claim to fame is? When did she ever become an expert on the Royal family or anything British, other than UK bigotry? This is a really, really embarrassing oversight by Nine's flagship current affairs show.

— Arvind Hickman (@ArvindHickman) September 5, 2019
https://twitter.com/__georgehughes/status/1169775799580409856
Whether or not we agree with this opinion that Hopkins has, we don't believe that compiling a 'documentary' is the right nor mature thing to do. We need to learn how to co-exist with one another without stirring up unnecessary drama.